I once was a LuLaRoe skeptic. And then last Sunday after receiving a bunch of compliments about my outfit (an Amelia dress and leggings) I found myself standing up during lunch and asking my mom and my sisters to feel my leggings because I knew there weren't really good words to describe how soft they were. This is the slippery slope of discovering LuLaRoe and I'm happy to initiate you into the club.
*If you aren't interested in reading all my deep thoughts about LuLaRoe because you already love it and want to enter the giveaway, go ahead and comment on this post with what you think would be a fun color or design for leggings (just as a way to enter), then go to LuLaRoe Jenn Online, "like" her page and tell her I sent you. We'll have two separate giveaways- one from my blog and one from her page so be sure and enter both places!*
There are lots of great pieces out there about why LuLaRoe is amazing (I like this one– about body image- and this one– about the MLM aspect). The short story is that these are great pieces that flatter just about every body and turn your "mom wardrobe" into something that feels fun and fresh.
But there is an aspect of LuLaRoe I am uniquely qualified to discuss:  How does it work for people with LONG torsos?
My husband is 6'2″ and I am 5'7″ and when we sit next to each other, I am taller than he is. I have a ridiculously long torso. And short hobbit-style legs. Because of this, the leggings trend hasn't worked so well for me. Shirts that are meant to cover my backside end up barely touching my waist. I was hoping maybe LuLaRoe would have options for a girl like me.
I gave my consultant (Jenn) my sizes and let her pick what she thought would work. My only stipulation was that I wanted a solid colored pair of leggings (if you aren't one for crazy prints, don't let that turn you off of LuLaRoe- there are lots of solid options). She picked some things I thought I'd like, but also some things I would not have chosen on my own and they turned out being my favorite pieces. I thought I was getting some cute mom clothes, but I ended up with some va-va-voom date night pieces that fit me and my ridiculous torso perfectly. WHO KNEW?
If you have a long torso like me, there was one style of shirt that was long enough for me to wear with leggings and have both my front and back appropriately covered (what "appropriate" means to anybody is subjective, but for me it means it covers all my lady business). It was the Irma. I tried the Randy and the Classic T as well and they were both so comfortable and flattering, but need to be paired with a skirt or jeans, which I am LOVING. I hear rumors the Perfect T might also be long enough for Super Torsos, but I didn't try that for myself. It also should be said that I went into this thinking my husband would be a little skeptical himself, but. . . he was not. And that is all I will say about that.
Here's a chart to show the different lengths of shirts on normal torsos.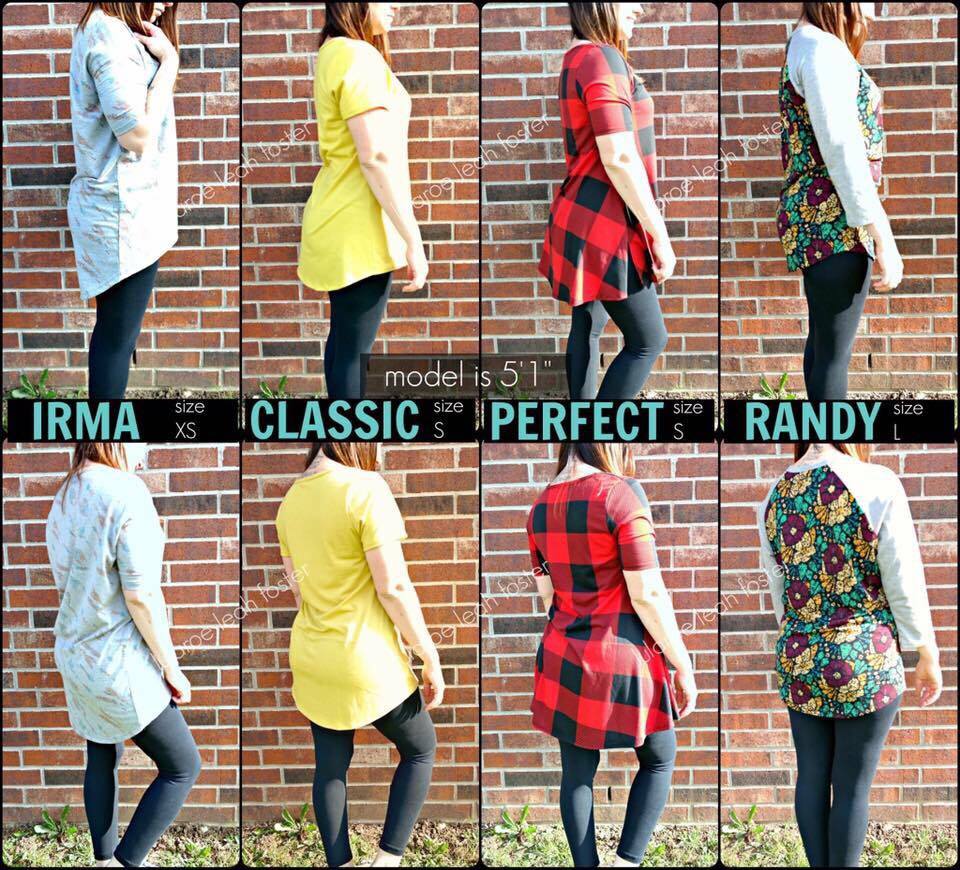 I also tried some dresses and skirts. I LOVED them all. Honestly. Totally. I'm wearing them a bunch. What surprised me most was the styles I thought would look boxy on me (the Cassie and the Julia) ended up being SO flattering. I would love to own multiples of these in different colors and patterns– such a great length on my hobbit legs and the material does good things for my curves (even the curves I don't generally like. I'm looking at you, Weird Stomach Lump.). It's great to own dresses and skirts that you feel comfortable running errands in or bending down to pick up your kids in. These clothes do a great job combining beauty with functionality.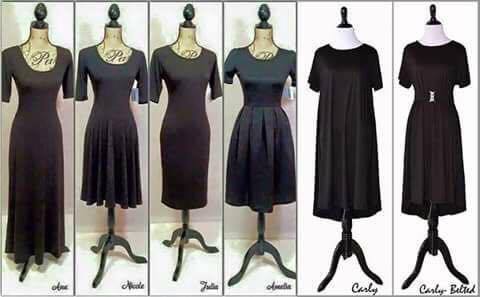 What I also found was that what makes these pieces special is what you choose to do with them. Belts, earrings, scarves, cardigans– they all enhance the basics and give it your own twist. I tried on the Carly and felt all swallowed up. Then I added a belt , leggings and boots and felt super cute. While the prints can be really bold, what you add to each look is what makes it special for you. (I also love that when I went to wash them the tag said, "Hang dry or you'll be sad." I just appreciate that level of honesty.)
AND THE LEGGINGS. They are soft to the point that I have absolutely considered sleeping in them. They are substantial enough that there's some kind of anti panty line magic going on that I can't quite understand. They don't start slouching during the day and they can handle some dancing or exercise in them without falling down on the job. My daughter likes to pet my legs and ask if when I grow out of them, can she have them. These things are lovely.
So now that you know why LuLaRoe, the question is, why LuLaRoe with Jenn? She's been a friend since college and it's been so fun to see her joy in this business. She devotes tons of time and energy to this (she runs it so professionally) and you can tell it's a labor of love– not just a love of cute clothes, but a love of women. And she gives stuff (LEGGINGS) away in her Facebook group regularly– amazing. I'm excited to introduce you to her!
How did you discover LuLaRoe?
I actually discovered LuLaRoe (pronounced "lue-lah-row") through a friend. It was about mid-way through my husband's 6 month deployment in 2015 and I had a friend come over and help me out with my 2 1/2 year old and newborn (at the time) on the weekends occasionally. She had been talking to me about these leggings this gal at church was selling online and at first I thought, "Um, no, I'm a new momma, this body doesn't do leggings." She kept bugging me about at least trying them, so I decided to host a party to get a pair free. And that is pretty much how everything started. I LOVED the soft feel of the leggings and more importantly I loved how comfortable I felt in them. From there I tried the tops, then the dresses, and the cover ups.
Why do you love being a LulaRoe consultant?
The consultant I hosted my first party with happened to be local and go to the same church as my friend (the one who bugged me to try it in the first place). She was holding an open house (also called an in-home pop-up) so I decided to go. I entered a home filled with women of all shapes and sizes who were clamoring for these clothes. And for good reason, too! The clothes were comfortable, but more important than the clothes, the women I was surrounded by weren't fighting, or bickering, or whispering about one another. These women were saying things like "Oh my goodness girl you look fantastic in that dress!" or "Can you believe it?! I NEVER thought I'd be wearing this crazy print!" or "Girl you are ROCKING that skirt!" And they didn't always know each other! SOOO much positivity and uplifting talk coming from these women who weren't even friends. There's something about the culture of the company that SCREAMS body positivity and empowerment. I felt so much confidence wearing the clothes and being surrounded by women who were uplifting towards one another that I wanted to do the same for others. LuLaRoe's Mission is simple: "Where through fashion we create freedom, serve others, and strengthen families. A place where lives are being blessed and dreams achieved through love, confidence, purpose and growth." I wanted to give the gift of freedom to others, and bless the lives of others as well. I also plan to teach my girls about this as well. How we as women should be building each other up and not tearing each other down. I didn't become a consultant to make money, far from that. I wanted to join in this movement of empowering women to be themselves and be confident and comfortable no matter what.
If a woman is a skeptic, what's the best piece for her to try to see if LulaRoe is a fit for her?
For me, it was all about the comfort. If a woman is skeptical about trying LuLaRoe, I wouldn't tell her to try any piece. I would give her an entire outfit to try for herself. My go to on any given day is leggings and the Irma top. That's what I would give her to try. Leggings because it honestly feels like you're wearing pajama pants, but they are an acceptable form of clothing in today's society and pajamas aren't. And the Irma top, because it is THE best top to wear with anything. You can wear it with leggings (obviously), but also jeans or a skirt. It's LuLaRoe's #1 selling top and for good reason! The high/low hemline covers all of the "assets" without that boxy look. The mid-length fitted sleeve and high neckline is modest and the flowy body gives it a very feminine look.
So Skeptics, are you ready to give LuLaRoe a try? We are giving away TWO pairs of leggings– one to a reader who comments on this post, and one to a reader who "likes" Jenn's Facebook page and comments there. So here's what you do:
1) Comment on this post with a fun color or design for leggings (this is just as a way to get you entered, not picking what kind you'll actually get). 
2) Go to LulaRoe Jenn Online and "like" it, then post on it that you were sent by A Musing Maralee. 
I will close the drawing Friday at noon CST (3/3/17) and pick a winner! I'll email the winner and get you connected with Jenn to arrange the details of your prize. Comment away!
This giveaway is CLOSED. Congrats to our winner, Erin!
(Visited 655 times, 1 visits today)