IT'S OUR FIRST GIVEAWAY!!
(Giveaway is completed- come see our winners over here)
Valentine's Day for the busy Mom-  You make your child sign and address 25 Valentine's, try to manage the post-Valentine sugar insanity, make the heart-shaped meatloaf (nothing says love like a loaf of meat in the shape of a heart. . . at least if you're my boys), and spend all evening doing the dishes just to gratefully climb into your pajamas at 8:30 so you can eat some microwaved tater tots and watch TV with your husband.  Romance?  I remember the days.
Which is why I loved the gift that came in the mail for me!  My friend Kashoan at KraftyKash made me something special- a necklace.  I've received several necklaces from Kashoan in the past.  Last Christmas Brian bought me four necklaces- one for each of our kids.  Each necklace was so special- two had Bible passages connected to our kids and two were atlas pendants with special places to our kids.  And the best part- they aren't just sentimental and beautiful, they are STURDY!  Very important when you're raising kids who think a piece of jewelry is just a toy Mom hangs around her neck.  So when Kashoan asked me about a special word or place for this next necklace, I knew just what I wanted.
Toccoa.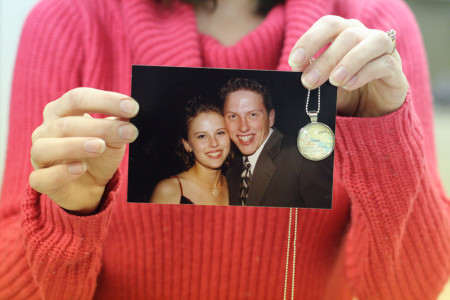 (Here's a picture of Brian and me from our college's Christmas Banquet when I was 18 and Brian was 20.  And my new pretty necklace! Photo by Rebecca Tredway)
Toccoa is beautiful little city with a really tall waterfall in Northeast Georgia where two kids fell in love.  Well, LOTS of kids have fallen in love at Toccoa since it is also home to a small Bible college.  As this Valentine's Day came and went with its apparent lack of romance (other than that heart-shaped meatloaf), I loved looking at my sweet map necklace that reminded me where it all began.  This is a season in life where it's tough to make time for each other, but Brian and I love to talk about the good old days- walking hand-in-hand around the college's wooded campus, studying together in the library (but not actually studying much), getting in trouble for being out past curfew, and sneaking kisses goodnight.
So what place says romance or has special significance for YOU?  Kashoan is letting me pick two winners who will get an atlas pendant like mine (but with your own place).  Here's what you have to do:
1) Put your place name as a comment in the comment section below (be sure you have an email address associated with your comment so I can contact you if you win). That's one way to enter.
2) Go "like" the KraftyKash Facebook page, then post a comment there with your place name and say you found Kashoan through A Musing Maralee.  That's two ways to enter.
You can do one or both of those things with the potential to enter twice.  Yay!  And I can tell you you'll like getting updates about sales and unique items from the KraftyKash page.  It's really a fantastic way to get  a personalized gift for somebody you love.
Now let me tell you why I love ordering from KraftyKash.  When you buy something from them you know a mom made it.  A mom who probably put it together while talking to her son about his future dreams or while  her daughter was sharing about her adventures in school that day.  You are ordering from a mom who looked at her life a couple years ago and wondered how she could turn her passion for pretty things into a job that helped support her family.  And then she did it!  She takes a lot of pride in putting out a quality product and I love seeing her enthusiasm for what she does and who she does it for.  Last week there was a call put out in our community for local business owners to donate services to help celebrate the 16th birthday of a state ward who otherwise wouldn't have any celebrating.  I contacted Kashoan and within ten minutes she had not only donated herself, but also contacted other vendors to donate their services as well.  That's just Kashoan- such a big heart and an amazing ability to know her resources and connect people.  That's the kind of woman and the kind of business I love supporting.  Now go check out her fun blog and see how she gets inspired.
Can't wait to see who wins!  I'll pick a name at random on Sunday and announce it Monday.