(I'm so glad to have Melodie share her perspective on this topic.  You can ready my introductory thoughts here.)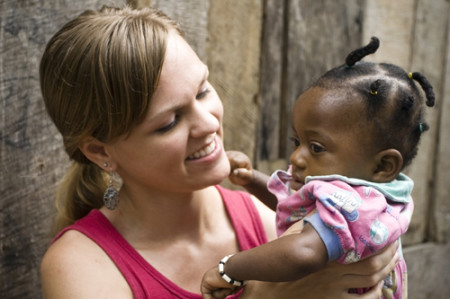 Guest Post by Melodie Kejr
Read more of her writing at her blog.
Holding the precious little babies in orphanages is one of the most talked about events for those traveling on short term mission trips or adoption related purposes. We see numbers of children that far surpass the number of care-takers and feel the desire to "love on" the children, especially the infants and toddlers, who are not receiving the same level of affection they'd be receiving if they were in a family.
The heart's desire to cuddle a precious child in an orphanage comes from a pure motivation of wanting to love someone in need. We can't bring them all home, but we want to leave an impression with the child that they are loved, if even for a moment.

The question is, is it really beneficial? Could it actually be harmful? Does the good outweigh the bad when it comes to baby holding?
Short term visitors holding babies in orphanages is a very complicated topic and I'm going to try to do my best to explain how I feel about it based on my years of experience working actively with orphanages and adoptions in Liberia.
The short answer is no, the good does not outweigh the bad. But I want to help you understand why this is, and offer some healthier options for showing love to children in orphanages overseas.
There are a number of reasons baby holding is harmful, but also reasons why in most situations it is not necessary. There are numerous practical and even ethical questions when it comes to mission work, adoption, orphanages, and other forms of aid overseas. Things we don't often understand because we have not lived there long term, we do not understand the culture, and we are shaped by our home culture.
As a guiding principle I have learned to ask my questions by imagining doing the same action here in the United States.  For example, suppose a youth group wants to go to Mexico and host a week of VBS for kids. Is this something you would be comfortable sending your children to if that same youth group came to your neighborhood and hosted the same VBS program? Thinking of it this way you are challenged to consider the quality of teaching your children would be exposed to, the safety aspect of letting your children spend a lot of time with a bunch of teenagers you don't know, and thoughts of what the teens will actually be teaching the kids. Does it line up with what you believe? Just because someone is poor and lives in a different country does not mean they don't think through many of the same things we do when someone wants to come and offer some form of volunteer service.
So how does this play out in an orphanage setting with children who don't have parents to look after their best interests? When it comes to baby/toddler holding, and even the level of affection that is offered to older children, visitors in orphanages often behave in a way they wouldn't if the setting were mimicked in the United States.
When we see children overseas in a place with no parents around, we immediately assume ownership of them and start to do things only parents would do. I don't know if this is an American mentality, or just something that has developed over the years as a culture of how we view orphanages.
Imagine my little 17-month-old boy is playing in my back yard. The yard is completely fenced in and you can't see me from the kitchen window keeping an eye on him. Because you cannot see his parent around, would you feel it was okay to go into my yard, pick him up, and start playing with him? Of course not! You'd feel that you might scare him, and worse yet, be accused of trying to kidnap him.
Suppose you visit your friends in their home for the first time who are foster parents of a group home. Would you go up to the children and pull one of them onto your lap, even if the child really seemed like they wanted that kind of attention? I doubt it. You'd understand foster children and foster parents have different requirements and try to be respectful of that. Despite the fact there were a lot of children as compared to the number of parents, you still probably wouldn't feel comfortable holding the children and interacting with them as if you knew them well.
When visiting children, specifically children living in orphanages overseas, we cannot treat them as if we own them, or treat them differently than you would treat my child in my back yard or your friend's foster child. The practical reasons for this are the same, which involve not making a child afraid, respecting boundaries set by those in charge of the child, etc, but there is a more serious factor that can be very detrimental to a child's development.
The biggest potential harm for these children is the high likelihood of forming attachment disorders. Many adoptive parents have experienced serious attachment issues with their children that resulted largely in part to short-term visitors holding their child during their orphanage stays. Stories like this are not uncommon.
These issues can can have long-term consequences on a child which effect how they interact with their peers, how they relate to their adoptive parents, and if they aren't adopted, how they relate to individuals once they leave the orphanage, either after reunification or as young adults.
This is what you need to know. Though it's not like a family with a mom and a dad and three kids, an orphanage is like a family in the sense that the children come to know and trust the caretakers. At least this was my experience in Africa. The security guards are positive male figures in their lives. Typically friendly guys who don't usually hold the children, but leave the children with a sense of safety. The nannies, washers, and cleaners are female mother and aunty figures. Older children are like older siblings who hold the babies and play with the toddlers. Many of the caretakers take to one child or another and will give them a little special attention. Some of the older kids really bond to some of the younger kids and babies, with a little one on their backs or at their sides almost constantly.
In most orphanage settings the babies are not being held as much as they should, due to the high numbers of children. But they are being held. They are being held by the nannies and they are being held by older children. They are typically getting held enough to not go into a depression and want to give up on life. (Now, this is not true for special needs children in orphanages in Eastern Europe. And of course I cannot speak for orphanages all over the world.)
So when a stranger enters the building and starts holding the kids, it teaches the children that it is okay for strangers to hold them. It is okay to go to strangers for love and affection after they are adopted or moved out of the orphanage into a different setting. If this happens on a regular basis, which is true for orphanages that do adoptions and orphanages that have partnerships with people in the states, it is very damaging as the children begin to see all visitors as safe. They also make short-term bonds with these people, then the people "abandon" them, just like their birth parents did (whether through a loving adoption decision or death). Sometimes children, even the babies, will assume one of the visitors is there to adopt them, especially based on all the special attention they are getting. Only to experience deep loss once again when the visitor leaves without them. The children develop coping mechanisms that will effect them their whole lives if they are not intentionally dealt with.
So what about the children who will never be adopted?
If these children grow up receiving constant brief interactions from visitors, they will leave the orphanage environment also not knowing how to form healthy bonds, and also behaving inappropriately with strangers. This may lead to continuously being taken advantage of in a number of ways, but especially sexually for the girls. It may lead to young mothers and fathers who do not know how to commit to a marriage and parent their own children.
I do think there are a few exceptions.
Holding a tiny newborn is probably okay, though you wouldn't want that to distract you from doing something with all the children that would make a greater impact.
In Eastern Europe there are horrible situations where children are packed into cribs and never touched at all. These babies just stop growing and some will even be 14 pounds at 14 years! This is so unimaginable. I feel it is beneficial for these children to be held, although they would still grieve when you go. I encourage everyone interested in adoption to consider one of these children, truly the "least of these."
Also, some situations of special needs children in African orphanages are pretty pathetic as the children are often stigmatized, and if they are older, difficult to keep clean, so smelly. It may be appropriate in some situations to hold these children.
The good news is this does not mean there are not other things you can do in orphanages and with street children that will show your love and care for them.
Holding the hands of toddlers, playing games with the children, bringing puppets and bubbles, and reading stories are all meaningful interactions that will not cause emotional damage. Paying for a special meal and eating it alongside the children is another way to create positive, healthy memories of your visit. If a baby is not being held while these things are taking place, ask one of the older kids to pick her up. The baby already knows this older child and will be getting some extra affection while enjoying watching you.
Going on short term mission trips and volunteering in orphanages may impact you towards adoption or mission work some day, but this should never be done at the detriment of others. If you are new to adoption or mission work, and just want to learn more, there is a lot of information that is available to us today that doesn't involve spending thousands of dollars going overseas to hold babies we really shouldn't be holding. One can still make a commitment for adoption or to sponsor a child without doing these things.  If you truly want to make a trip overseas, make it at least a six month commitment. Better yet, consider becoming a missionary that focuses on meeting the needs of vulnerable children. Otherwise your trip really needs to focus on something else.
*Melodie tells me she'll be watching the comments, so feel free to address any follow-up thoughts or questions to her and she'll respond.  Thanks!
(Visited 327 times, 1 visits today)