It's giveaway time again! Today we're giving away a handlettered print or three cards from Lindsay at Truth Papers. She does  beautiful work and I love having this print of hers in my home:
"He freely and faithfully gives more blessings than we can conceive."
It's a favorite line from the hymn "Poor Sinner Dejected with Fear" (on the list of inspirational titles, that one is not very high). I remember singing it somewhat mindlessly one Sunday (as one tends to do when one has sung something a lot of times and is distracted by toddlers trying to launch themselves off of church pews) when the full impact and relevance of that line hit me. The blessings of my kids. . . so much more than I could conceive, both figuratively and literally.
I was honored to have Lindsay create this piece of beauty for our home. And now you can have some of her inspirational work in your home, too!
To enter the giveaway to win your own print or three cards, here's what to do:
-Comment here with if you prefer a verse, song lyrics, or inspirational phrase for your home. (This is just a fun way to get you entered and learn a little bit about each other. Check out her options on etsy or find her on Instagram.) 
-Go "like" the Truth Papers Facebook page and let her know (on her share of this post) you were sent by A Musing Maralee. Be sure I'm tagged so I can see it.
Now let me introduce you to Lindsay, Truth Papers, and the work she does. (I seriously got convicted AND encouraged reading through her struggle to create. This is good stuff.)
How did you get started handlettering?
It has been so many things that got me to where I actually started handlettering. My background is in graphic design, and ever since college, I was a geek about type. I also had my first and only drawing class in college which I really enjoyed.
I didn't actually start drawing again until a couple years ago, though. I suffer from fear of failing (can I get an amen!) so it's taken me a while to have confidence in who God made me and allow myself to create even if it doesn't look that great all the time.
I had admired handlettering for a long time and realized through a Bible study I was in at the time that I was allowing lies and fear to keep me from creating. Something that God made me to love doing. And that hopefully He could use to encourage other people. So I started drawing.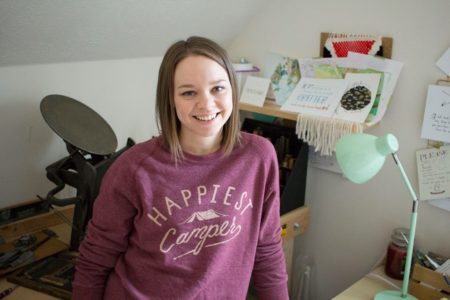 Where do you find inspiration?
A lot of the time it is from verses that have recently stood out to me or that other people have told me is their favorite. I often draw a verse to start just because it reminds me of what's true and why I am doing what I'm doing. I also love hymns, random hilarious things my kids have said, and currently I enjoy following Mary Kay McDevitt and Dana Tanamachi on Instagram.
How do you find time to complete projects?
That is a good question…I just find pockets of time. Haha! It is hard, for sure, sometimes. On the other side of the room of my studio is the laundry area, so everyday life is always staring me right in the face. After the kids go to bed usually and during a nap time is what works for me.
So let's see who wants to win their own print or cards from Truth Papers!
-Comment here with what kind of print you like: verse, lyric or phrase. 
-Go "like" the Truth Pages Facebook page and let her know (on her share of this post) you were sent by A Musing Maralee. Be sure I'm tagged so I can see it.
These are two separate ways to enter so you can get a total of two entries into the drawing. I will draw a winner on Friday at noon (CST).
I'm excited to see what you pick!
(Visited 120 times, 2 visits today)